TechKnowledgy 2019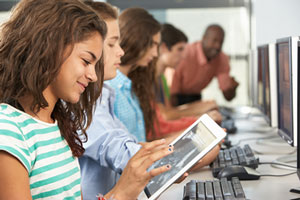 The Face to Face TechKnowledgy Conference is now over, but feel free to explore the conference website. Please contact us to access specific conference handouts.
This 2-day conference will feature local and national presenters highlighting assistive technology (AT) solutions for young children through high-school-aged students. Learn ways to infuse new and familiar AT into daily instruction to increase student participation and strengthen learning opportunities. Explore the exhibits, share resources and network with others.
This conference is designed for general and special educators, related services personnel, assistive technology teams, instructional technology specialists, administrators, family members and others interested in helping students with disabilities achieve success and independence using assistive technology.
April 8, 2019 Schedule
| | |
| --- | --- |
| 8:00 – 9:00 | Registration, Breakfast, Exhibits, Networking |
| 9:00 – 10:30 | Keynote |
| 10:45 – 12:00 | Concurrent Sessions |
| 12:00 – 1:15 | Lunch, Exhibits, Networking, Goose Chase |
| 1:15 – 2:30 | Concurrent Sessions |
| 2:45 – 4:00 | Concurrent Sessions |
| 4:00 – 4:30 | Exhibits, Networking |
April 9, 2019 Schedule
| | |
| --- | --- |
| 7:45 – 8:30 | Registration, Breakfast, Exhibits, Networking |
| 8:30 – 11:15 | Concurrent Sessions |
| 11:15 – 12:30 | Lunch, Exhibits, Networking |
| 12:30 – 3:15 | Concurrent Sessions |